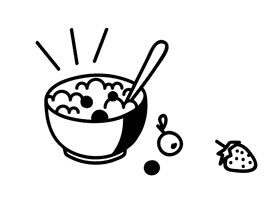 FLEMINGS SIGNATURE BREAKFAST 
THE RIGHT NUTRITION FOR EVERYONE
We want you to find what you like to eat and what's good for you. In addition to breakfast classics like cheese and charcuterie cold cuts, we offer the right dietary options for everyone with lactose-free and plant-based dairy products, gluten-free baked goods, and vegetarian and vegan buffets.
Why not try hummus, Israeli vegetable salad or our weekly changing fruit and vegetable smoothies. 100% home-made with fresh seasonal and regional ingredients.
COFFEE & TEA
But first, coffee! At Flemings, we know what it takes to start the day right: really good coffee. That's why we focus on fair-trade and high-quality organic beans from regional coffee roasters. To get the best out of the small bean for you, we use the best of the best: individual La Marzocco coffee machines. You don't like coffee? We also offer first-class tea from the Ronnefeldt tea house.
BIO EGG DISHES
Regional and sustainable food is especially important to us as Flemings Hotels. Our body only works properly and well if we provide it with the highest quality food. Especially with animal products, we therefore place a high value on regionality and organic quality. We will be happy to prepare your egg dishes fresh for you.
Granola
Start your day right! With really good home-made Flemings Granola and delicious homemade crunches like our Apple Crunch or Nut-Oat Crunch. Combine your granola as you please with fresh or dried fruit, nuts, puffed amaranth and more. Supplemented with superfoods such as goji berries, chia or flax seeds, the granola not only gives you an energy kick, but also provides you with valuable fiber, antioxidants and vitamins.
BAKED GOODS
Baking bread is a real art! Therefore, we leave it to the masters and cooperate with local, traditional bakeries. They use only regional products and no chemical additives. The art of baking for generations. By the way: you can also enjoy gluten-free breads and rolls with us. Please just ask our service team.