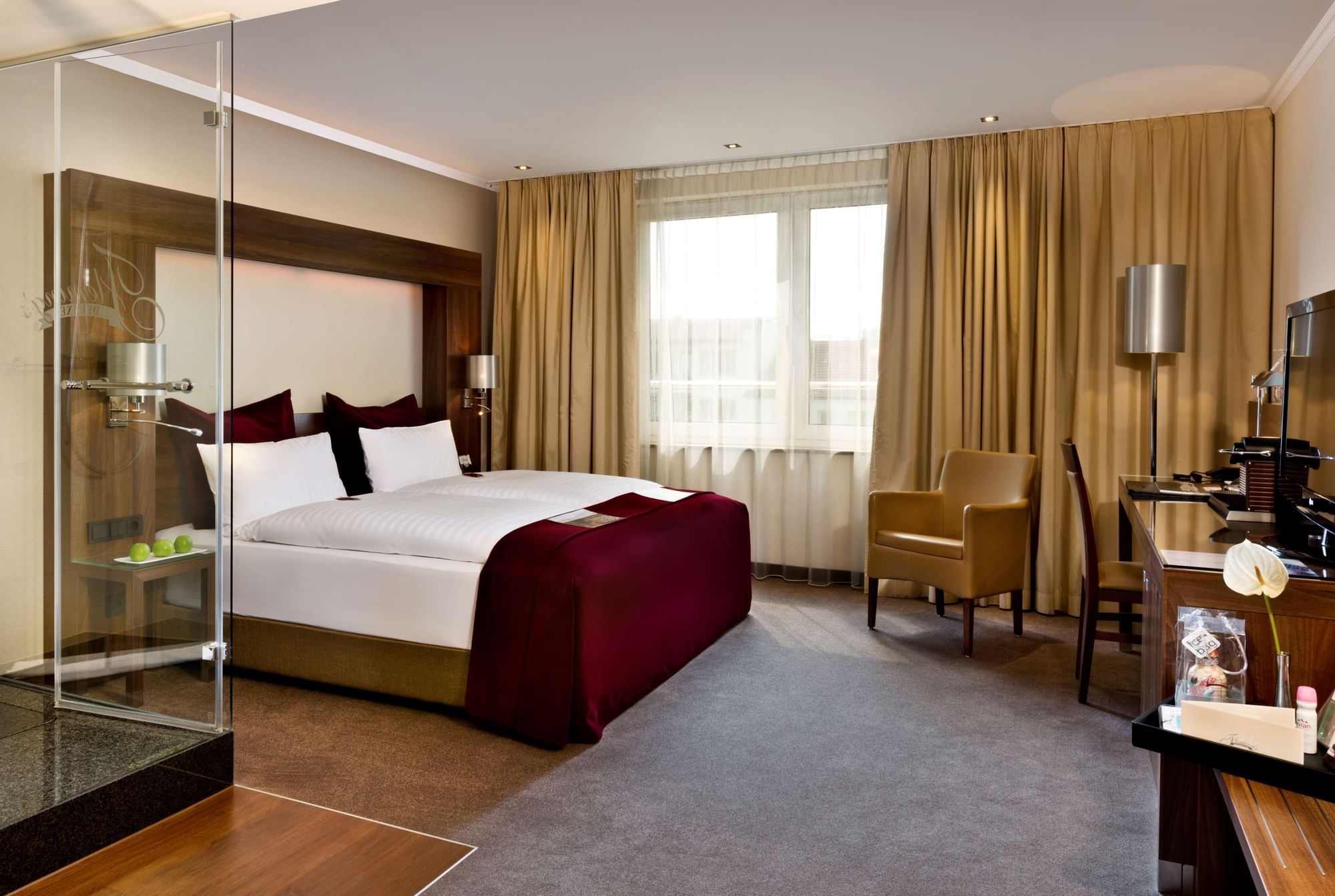 More About Flemings Hotel Frankfurt Main-Riverside
The Flemings Hotel Frankfurt Main-Riverside is the ideal starting location from which to attend business appointments and to go on personal discovery tours into the heart of the pulsating metropolis: the hotel is very centrally and conveniently located in the Frankfurt city centre, in direct proximity to the Main. The new European Central Bank, as well as the subway and S-Bahn are within walking distance, as well as the "Schöne Aussicht" (beautiful view) with the small Main bridge and an unforgettable view of the Frankfurt skyline, which can also be enjoyed from the 6th floor.
The modern design concept is consistently and meticolously reflected throughout all 149 rooms and suites. The premium walnut-stained woods create an understated elegance, while refined materials and warm fabrics in earthen and Bordeaux tones provide a stylish contrast. The fully glass enclosed bath, which particularly embellishes the granite and stainless steel, is the interior design highlight.
Distances
4 KM
Exhibition & Congress Centre
3 KM
1 KM
3 KM
13 KM
LOCATION
The Flemings Hotel Frankfurt Main-Riverside is very centrally situated with good traffic connections to Frankfurt city centre and only a few metres away from the beautiful Main promenade. The new European Central Bank is also just an easy walk away. So the hotel is the ideal starting point for business appointments or private discovery trips in this vibrant city.
Complete the experience
Rooms
You'll find a stylish ambiance in all rooms and suites: fine granite-glazed bathrooms, walnutcoloured wood and high quality materials.
Meetings
Flemings always creates the best conditions for business. The conference facilities offer space for every occasion.
Cucina da Nina
Enjoy la dolce vita in the middle of Frankfurt. Our catering team will spoil you with delicious dishes such as pinsa, pasta, caponata and salad.