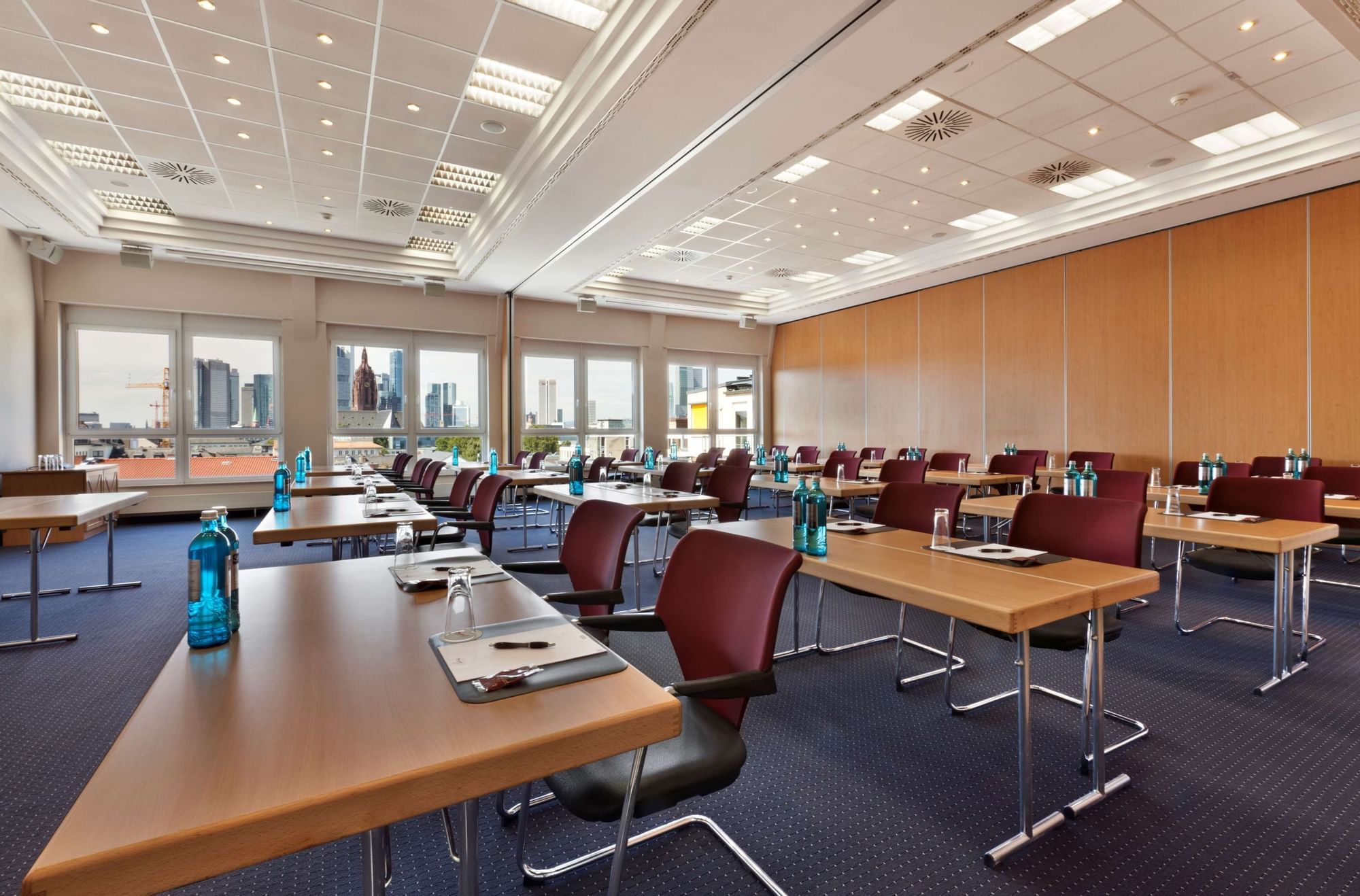 Meetings
Flemings Hotel Main-Riverside
Conference Hotel in Frankfurt
Meet in Flemings Hotel Main-Riverside
Tackling projects with a clear view of the business world: the panoramic windows of the meeting rooms on the 6th floor of our conference hotel, provide a breath-taking view of the most interesting skyline in Europe. We have 7 conference rooms with a total floorspace of 410 m² for up to 200 persons and an exclusive wintergarden suite ideal for smaller meetings or private dining.
The conference rooms have centrally controlled media technology, daylight, pin board, air conditioning, flip chart, projection screen, video projector, stereo system, WiFi and TV system.
We sincerely welcome you and wish you and your event a lot of success.
ALL MEETINGS AND EVENTS AT FLEMINGS INCLUDE:
A detailed consultation in advance regarding your needs
Provision of high quality and effective meeting technologies
State-of-the-art Jabra-PanaCast video conferencing technology for hybrid meetings (compatible with all leading video and audio conferencing solutions, certified for Microsoft Teams and Zoom)
ClickShare system for easy sharing of presentations without wires, cables or adapters
An exclusive meeting concierge
In-Room Dining - if you like
Beverage service with various coffee selections and soft drinks
Air-conditioned rooms with daylight
Covid 19 rapid tests, face masks and hand sanitisers on request
A significantly strengthened security concept, the Flemings Feel Safe Promise
Meeting rooms
Conference area from 25 m² up to 182 m²
The 7 meeting rooms for up to 200 people on the sixth floor offer you the best views: with large panoramic windows, a unique view of the Frankfurt skyline and state-of-the-art equipment that guarantees smooth proceedings. The exclusive wintergarden suite can also be used for smaller meetings or private dining.
Meeting packages
Flemings' Legendary All-inclusive Deal
Our Flemings Meeting Concierge will be at hand as your passionately committed host, to provide support and technical expertise
An air-conditioned room with natural light and no pillars, suitable for the number of personnel, including writing implements and stationery
Delicious speciality coffees and teas during the event
Top-class conference equipment such as ClickShare and a powerful projector and screen.
Aromatic, energising & tasty – morning coffee break with hearty snacks
Mineral water and apple juice during the event
Light, quick & healthy – lunch with delicious, healthy cuisine to keep you sustained for the rest of the day
Lovely & sweet & yummy – afternoon coffee break with sweet snacks
Pin board, flip chart and presenter's case
Free WiFi access for all participants
from 69,00 Euro